If you are looking for a vacation rental in the heart of nature with a view of the Gardon in Anduze, France, the best choice is the 5 star Anduze campsite "Camping de l'Arche"!
Camping vacationers of all ages can swim and laze in safety and bright sunshine. The riverside campsite offers an ideal holiday setting between calm and easy access. Water sports and sunbathing await you in the immediate vicinity of the Cévènnes natural park.
The green landscapes of the Cevennes and Gard will enchant you during your next camping holiday with a view of nature. Spend a paradise vacation 1 hour from the Mediterranean Sea.
Do you want to spend your family holidays in a 5-star Anduze campsite? Then Camping de l'Arche ***** in Anduze awaits you.
A stay at Camping de l'Arche in Anduze means choosing top-notch services and accommodation in a natural, wooded site by the river. You can choose between spacious camping pitches and a wide variety of high-end rental accommodation (mobile homes), available at different levels of equipment.
Pool or river
At the 5-star Anduze Campsite, your holidays are all about water. Because you can choose between the river and a large pool area. Regarding the first, you have access to a private beach between sand and pebbles, where it will be good to jump rocks safely. You can also enjoy the wonderful aquatic area, which includes an outdoor swimming pool, an indoor swimming pool, a paddling pool with water games for the little ones and slides for all thrill seekers.
Think of yourself and let go "
While your dear little ones are playing soccer or making new friends in the pool, you can also think about yourself for an hour or two, just for you. Camping de l'Arche offers you a wellness area where everything is prepared for you … just for you. You can start with a sauna or steam room, continue with a relaxing massage made by an expert on appointment. Ready?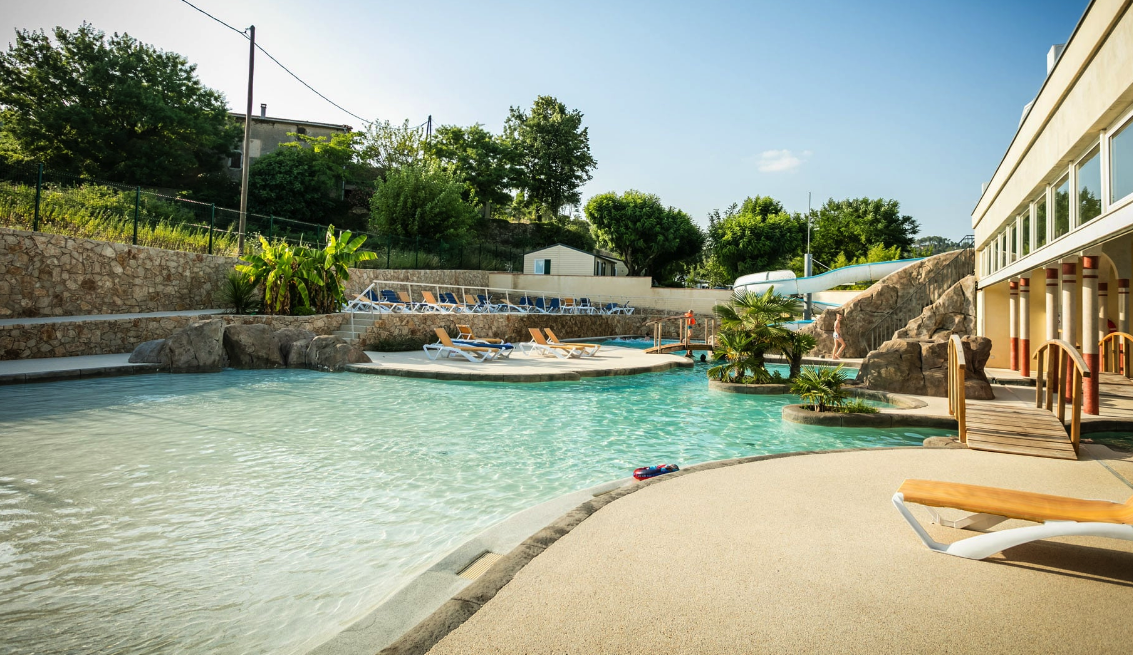 Animations 
One of the great assets of Camping de l'Arche is its entertainment program, run by professionals in the children's, sports tournaments (football, table tennis, badminton, basketball, etc.). In addition, you can run in unspoiled nature, canyoning, cycling and much more.
We advise and guide you for all activities. We make the reservations for you.
Go on a discovery
Discover the Cevennes, a region in the South of France in the heart of an exceptional territory, an inexhaustible source of surprises and change of scenery. The Cevennes offer you a warm living environment with a remarkable heritage, large natural spaces and many cultural and sporting activities. Everything is in place to make your vacation a success!
Taste the famous wines of Gard. Before the end of your vacation, discover the varied hinterland. The foothills of the Cevennes, the caves of Trabuc, the ancient cities of Nîmes and Alès, and several picturesque villages classified as "The prettiest villages in France".