In order to spend a peaceful stay in the Gard, with a maximum of comfort, we offer you several mobile-home rentals from 4 to 8 people. Our rentals will offer you the comfort of your home with a living room and kitchenette, one or more bedrooms and a bathroom.
More than a camping.
Welcome to our Home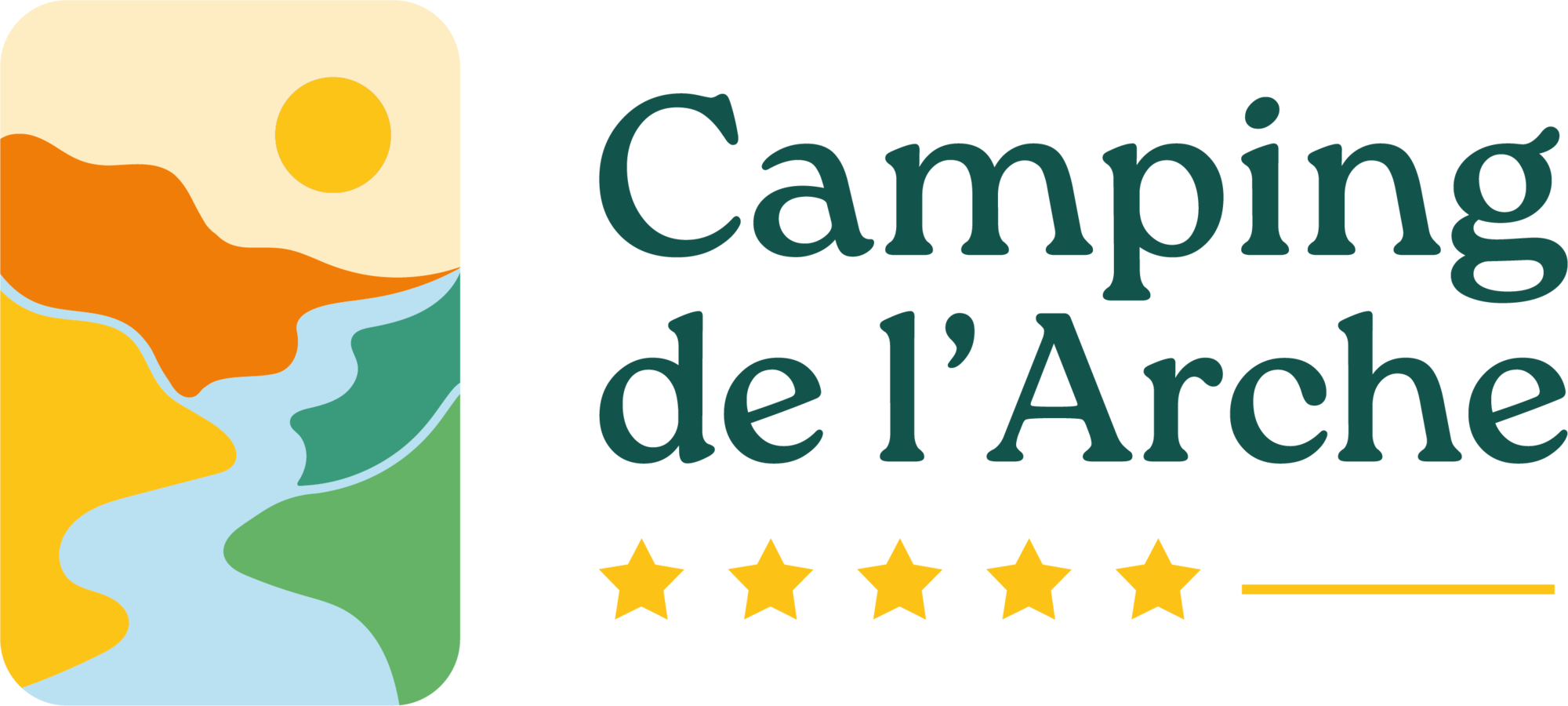 Price list of our rentals per night - € -
Price our rentals 2022
From 04/04 to 02/07 and from 03/09 to 01/10 : the days of arrival and departure are free (for a stay of 2 nights minimum).
For other periods : the rental goes from Saturday to Saturday.
-10% discount from 21 nights (excluding special offer and not combinable)

26,5 m²
Covered terrace 12 m².
2 bedrooms
4 places
Kitchenette – Shower – Lavabo- WC

30 m²
Terrace 3.5 m² covered + 4 m² uncovered
2 bedrooms
5 places
Kitchenette – Shower – WC – lavabo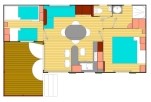 31m²
Terrace 4 m² covered + 3 m² not covered
2 bedrooms
5 places
Kitchenette – Shower – Lavabo- WC
Reversible air conditioning

30 m²
Covered terrace 5 m² + 3.5 m² not covered
2 bedrooms
5 places
Kitchenette – Shower – lavabo – WC
Reversible air conditioning
32 m²
Terrace 16 m² covered
3 bedrooms
6/8 places
Kitchenette – Shower – WC – lavabo
Reversible air conditioning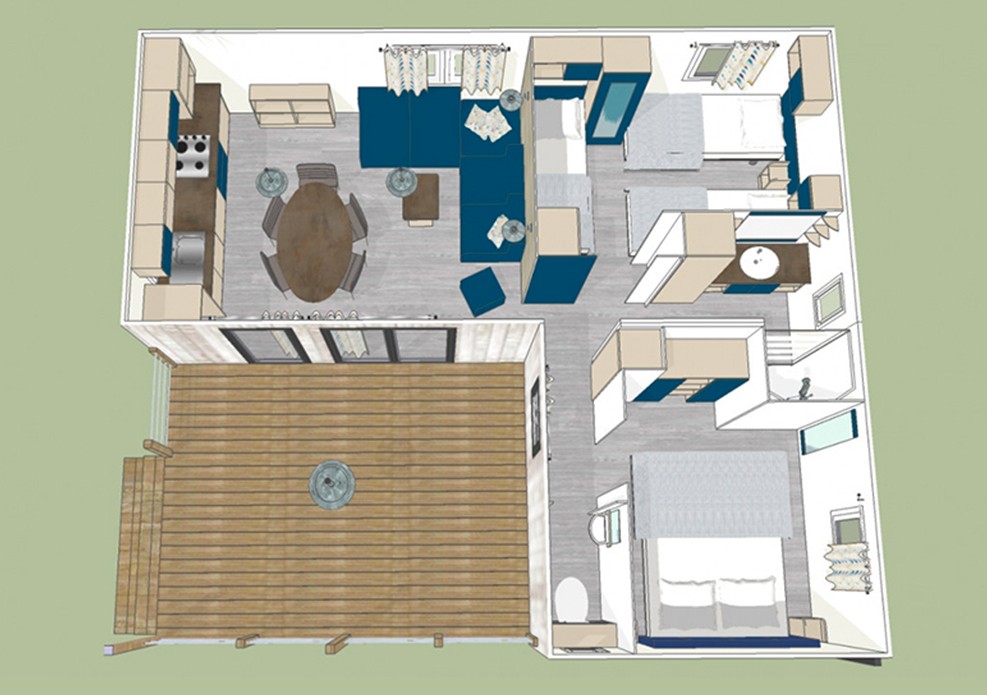 36 m²
Covered terrace 15.5 m².
2 bedrooms
5 places
Kitchenette – Shower – Lavabo- WC
Reversible air conditioning
Dishwasher
Towel dryer
38 m²
Terrace 3.5 m² covered + 4.5 m² not covered
3 bedrooms
6 places
Kitchenette – Shower – WC – lavabo
Reversible air conditioning
38 m²
Terrace 12.5 m² covered + 3.5 m² not covered
3 bedrooms
6 places
Kitchenette – Shower – WC – lavabo
Reversible air conditioning
Dishwasher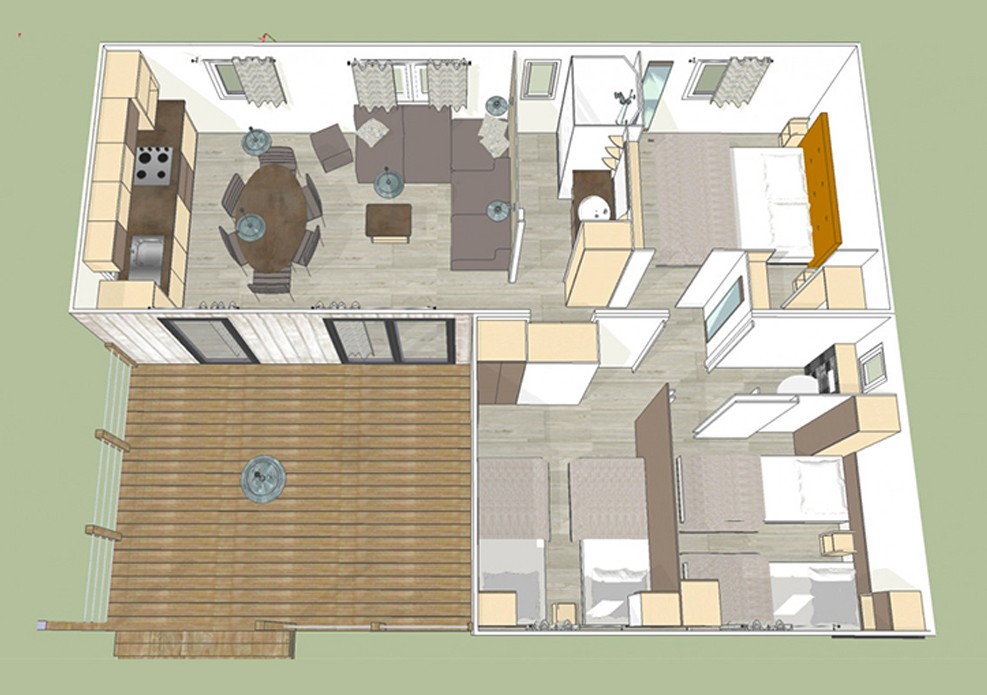 46 m²
Covered terrace 15.5 m².
3 bedrooms
6 places
Kitchenette – Shower – lavabo – WC
Reversible air conditioning
Dishwasher
Towel dryer
46 m²
Terrace 12 m² covered + 12 m² not covered
2 bedrooms
5 places
Kitchenette – Shower – WC – lavabo
Reversible air conditioning
Dishwasher
Towel dryer
Price/night from 7 nights
Period
Cannelle
Mimosa
Lavande
Iris
Vanille
Tournesol
Glycine
Camelia
Pivoine
Hibiscus
04/04 - 14/04
63
65
72
84
87
97
15/04 - 17/04
99
102
119
129
135
141
18/04 - 07/05
63
65
72
84
87
97
08/05 - 24/05
60
63
70
77
81
90
25/05 - 28/05
99
102
119
129
135
141
29/05 - 02/06
63
65
72
84
87
97
03/06 - 05/06
99
102
119
129
135
141
06/06 - 18/06
66
68
75
87
91
100
19/06 - 01/07
63
65
72
84
87
97
02/07 - 08/07
124
127
139
155
162
180
09/07 - 15/07
157
160
172
195
205
218
16/07 - 22/07
186
186
199
222
232
250
23/07 - 12/08
191
191
205
235
249
271
13/08 - 19/08
165
165
175
199
208
220
20/08 - 26/08
105
108
116
131
140
154
27/08 - 02/09
71
73
80
90
94
105
03/09 - 16/09
65
67
74
87
92
100
17/09 - 23/09
63
65
72
84
87
97
24/09 - 01/10
60
63
70
77
81
90
Short stay overnight rates (2 to 6 nights) excluding bank holiday weekends
Period
Cannelle
Mimosa
Lavande
Iris
Vanille
Tournesol
Glycine
Camelia
Pivoine
Hibiscus
For 2 nights
99
102
119
129
135
149
For 3 nights
97
100
116
126
132
144
For 4 nights
90
93
108
118
123
137
For 5 nights
82
85
99
108
112
127
For 6 nights
72
75
87
96
99
113
Price for 2 nights or weekend (excluding public holidays)
Period
Cannelle
Mimosa
Lavande
Iris
Vanille
Tournesol
Glycine
Camelia
Pivoine
Hibiscus
04/04 - 01/07
198
204
238
258
270
298
03/09 - 01/10
Bank holiday weekend price
Period
Cannelle
Mimosa
Lavande
Iris
Vanille
Tournesol
Glycine
Camelia
Pivoine
Hibiscus
Pâques
2 nights
198
204
238
258
270
298
3 nights
298
307
357
387
405
448
Ascension
3 nights
298
307
357
387
405
448
4 nights
397
409
476
516
540
597
Pentecôte
2 nights
198
204
238
258
270
298
3 nights
298
307
357
387
405
448
Basic equipment of our rentals :
Bed linen and duvets : all our beds are made !
Pillows and pillow cases
Kitchen area
Fridge
Gas cooktops
Microwave oven
Crockery
Filter coffee maker
Nespresso coffe maker
Water boiler
Heating
Garden furniture
2 deckchairs
Drying rack
Reversible air conditioning in models Glycine, Tournesol, Iris, Lavande, Camélia, Pivoine, Vanille, Hibiscus
Dishwasher in models Glycine, Camélia, Pivoine, Hibiscus
Towel dryer in models Camélia, Pivoine, Hibiscus
Cot Comfort Set
15 €/week
1 mattress (thickness 7 cm)
1 thermoregulatory pad
1 fittedsheet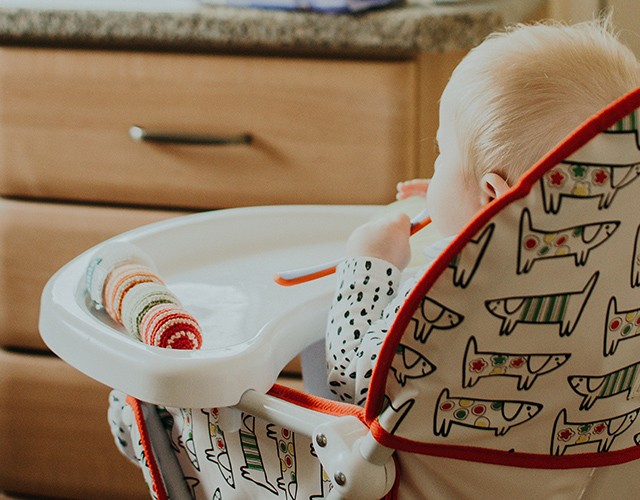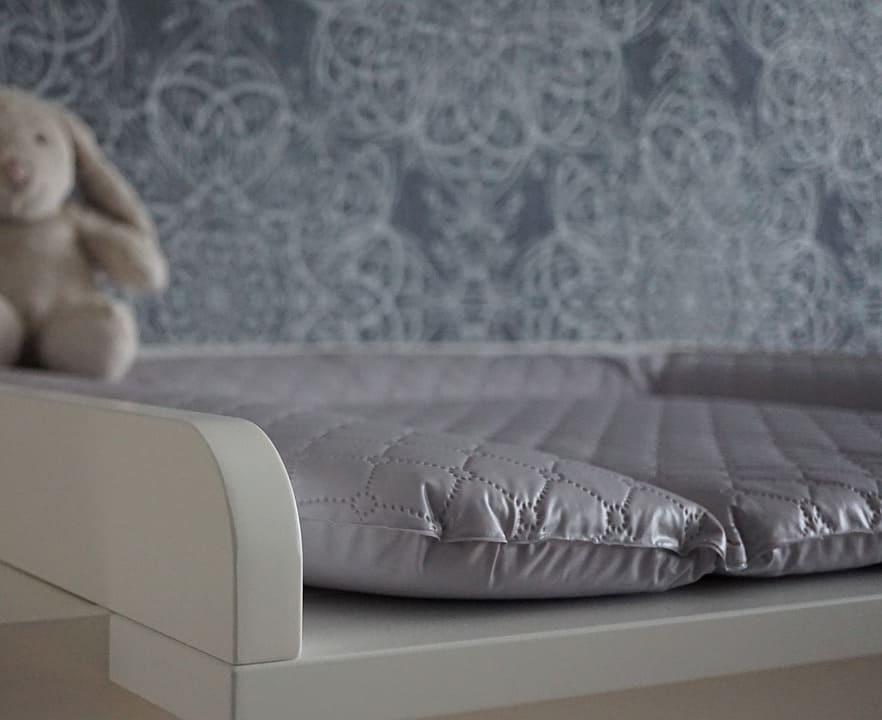 Changing mat
4€ per weekend
8€ per week
12€ for 2 weeks
Laundry
Washing machine 6€ (washing powder included)
Dryer 3€
Ironing board
Iron on request at the reception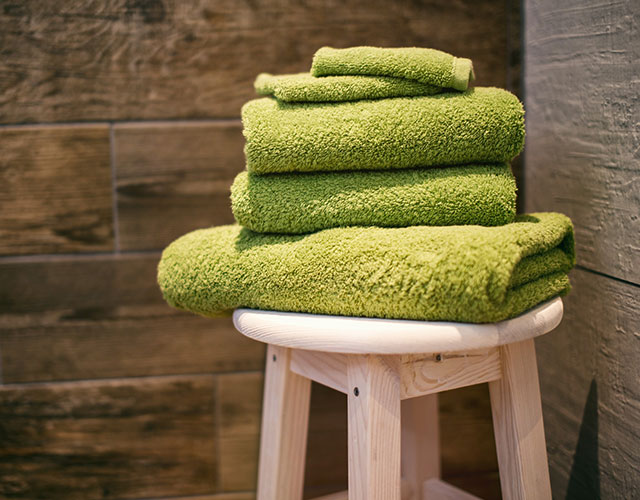 Towel Set
15 €/week
1 bath towel (450g/m2)
1 towel (450g/m2)
1 washcloth
From the rental of 1 set of towels 1 shower mat will be provided free of charge (1 per Mobile Home or Private bathroom)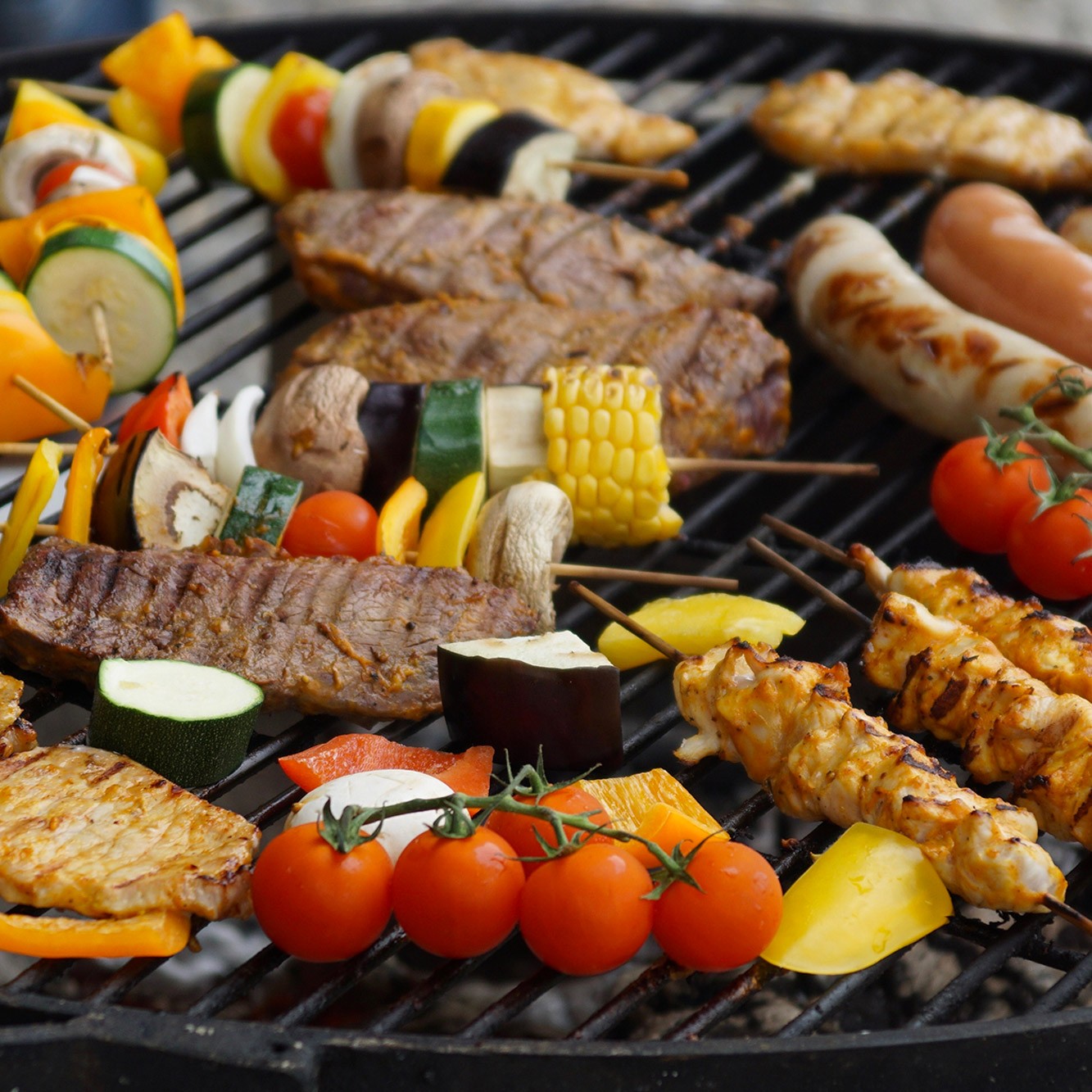 Barbecue
10€ per day
20€ for 3 days
40€ per week